Stop into Scranton Running Company for all your running & walking gear!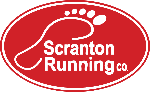 Running Shoes
The most important investment runners and walkers should make is in a good pair of running shoes, and we're not talking cross-training, walking, or tennis shoes. Running shoes are best purchased at the Scranton Running Company (a specialty running store) where our staff can recommend models based on your experience levels, injury history, foot strikes, gaits, and biomechanics. The wrong shoes can give you knee pain, shin splints, and a host of other issues. It pays to get fitted by the experts for these items!
If you try out your new sneaks and they just don't seam to be the right fit, the Scranton Running Co. has a very simple return policy: We stand behind our product line and customer service with confidence. If you are unhappy with the performance or quality of your purchase, for any reason, please bring it back to us and we will refund your purchase entirely. With or without the receipt.
Moisture Wicking Clothing and Sports Bra (for the ladies)
We recommend wearing moisture wicking clothing to keep you cooler and drier (not cotton.) Women should also have a quality, well-fitted, high-impact sports bra, preferably made of wicking material. A poorly-fitted bra can cause upper body tension, which reduces breathing capacity and can make your run feel more difficult. Check out our great line of Brooks® Moving Comfort line of sports bras that we carry at the Scranton Running Co. If you are looking for much needed support for high impact exercise, we recommend the Brooks Juno and Jubralee styles.
Water Bottle/Hydration
A water bottle or water belt is great for keeping you hydrated when doing longer runs or when the weather is hot. If you are just starting out in the program you may not need it to carry along with you, but we recommend you having it in your car so that you can hydrate after your training sessions.
GPS Sports Watch
A digital sports watch or gps watch is also helpful to keep you on pace and track your distance. If you are a beginner you may not need this when first starting out, but it will come in handy as you continue in your training. We recommend the Garmin Forerunner 25 as a great entry level gps watch. If you're considering continuing your running journey into the longer distances or more advanced workouts, we recommend a higher-end watch such as the Garmin Forerunner 235.
Reflective Gear and Lighting Equipment
During the times that our groups train in the dark, adequate reflective gear and lighting equipment are required. Our priority is the safety of our participants, as well as the safety of the drivers on the road. We recommend the Nathan™ Runners' Flashlight and any of Nathan or Amphipod® lighted or reflective bands, strobes, or reflective vests that we carry at the Scranton Running Company.